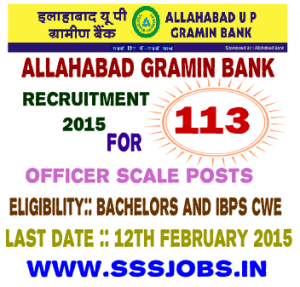 Allahabad UP Gramin Bank, Sponsored by Allahabad Bank came into its existence after the amalgamation of 2 RRBs viz Lucknow Kshetriya Gramin Bank, Sitapur & Triveni Kshetriya Gramin Bank ,Orai through a Gazette Notification dated 2nd March 2010 issued by Govt. of India, Ministry of Finance in exercise of the powers conferred by Sub-Section (1) of Section 23 A of the Regional Rural Bank Act, 1976 (21 of 1976) with its Head Office at Banda.Prior to this amalgamation erstwhile Lucknow Kshetriya Gramin Bank was formed on 1st March 2006 with the amalgamation of Bhagirath Gramin Bank, Sitapur, Sarayu Gramin Bank, Lakhimpur Kheri & Shrawasti Gramin Bank, Bahraich.Similarly, erstwhile Triveni Kshetriya Gramin Bank was also formed on 1st March 2006 after the amalgamation of Tulsi Gramin Bank, Banda, Vindhyawasini Gramin Bank, Mirzapur & Chatrashaal Gramin Bank, Orai.Allahabad UP Gramin Bank is a schedule bank and is included in the list of Bank published by RBI in its second schedule. The ownership of the Bank is vested with Central Government (50%), Allahabad Bank (35%) & Govt. of Uttar Pradesh (15%). The Bank is having a business of over Rs.7000 crore as on date of amalgamation with a large network of 494 branches & 4 extension counters spread over 11 districts of Uttar Pradesh viz Sitapur, Bahraich, Shrawasti, Lakhimpur, Banda, Hamirpur, Jalaun, Chitrakoot, Mirzapur, Sonabhadra and Mahoba.Allahabad Gramin Bank invited applications for the post of Officer in Junior Management (Scale I) Cadre who have been declared qualified the Online CWE for RRBs conducted by IBPS during September/ October 2014. Eligible candidates can apply online to the posts on or before 12 February 2015.
Details of Post
Name of Posts: Officer Scale-I- 113 Posts
Pay Scale: Rs. 31363/-per month (including DA, HRA at prevailing rate)
Eligibility Criteria:
Eligibility Criteria is to be considered as per RRBs CWE-III Advertisement published in Employment News/ Rozgar Samachar Issue Dated 28th June–4 th July, 2014 released by IBPS and posted on the IBPS"s website www.ibps.in .
Selection Procedure
The selection of the candidates will be made on the basis of performance in RRBs-CWE-III conducted by IBPS in September/ October 2014 and Personal Interview.
How to Apply
Eligible candidates can apply online to the post through the prescribed format along with other necessary documents on or before 12 February 2015.
Important Date
Last Date of Online Application: 12 February 2015
For the Detailed ADVT Notification:: CLICK HERE