Punjab CU Recruitment 2016 for Various Vacancy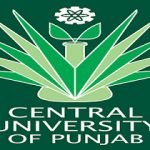 CUP (Central University of Punjab) released notification for 18 posts.CUP founded in 2009. It is government organization. This recruitment useful for who is already worked in psu/Govenament organizations. The last date for Online Application of the Punjab CU Recruitment 2016 for Various Vacancy is 30th may 2016.all the relevant documents submitted before 06th June 2016. Educational qualification, Age, Relavent Experience all are mentioned below.
Name of the organization: CUP
Punjab CU Recruitment 2016 for Various Vacancy Details::
Name of Post :
Internal Audit Officer-01 Posts,2. Assistant Registrar-01 Posts,3. Medical Officer-01Posts,4. Private Secretary-05 Posts,5. Personal Assistant-03 Posts,6. Jr. Engineer (Civil)- 01Posts, 7. Estate Officer-01Posts,8. Pharmacist -01Posts,9. Security Inspector-01 Posts,10. Cook-02 Posts ,11. Library Attendant -01Posts
Educational qualification:
For (1) Master degree +Qualified in SAs,  (2)Master Degree,(3) M.B.B.S  with 55%, (4) Graduate with 55%,(5) Graduate+ master degree as a Stenographer+2 yrs Experience,(6) Degree in Civil Engineering,(7) degree with 50%+ 5 yrs experience in Assistant Estate Officer,(8) Bachelor degree in Pharma+2 yrs Experience in PSU/Govt University,(9) Bachelor degree+10 yrs Experience in police,(10)ssc+5 yrs experience in kitchen of state/central govt organization.,(11) inter+library science 1 yr certificate,
(5)Agelimit:For (1)  (2)(3)(4)(5)(6)(7)(8)(9)(10)(11Posts age should not exceed
56,35,45,40,35,35,35,30,40,30,30 yrs respectively
Number of vacancies: 18
Job Pay scale:
For(1)15600+GP7600,For(2)15600+GP5400,For(3)15600+GP5400,For(4)9300+GP4600,For(5)9300+GP4600,For(6)9300+GP4200,For(7)9300+GP4200,For(8)5200+GP2800,For(9)5200+GP2800,For(10)5200+GP1900, For(11)5200+GP1800.
Location of the job: All over India
Application fee: 2-3 Lines
Eligibility Criteria: Candidate must be Citizen of India.
Selection process for Punjab CU Recruitment 2016 : Selection process will be based on Skill test/ Written test/interview as per the requirement.
How to apply: Candidate Visit www.cup.ac.in and read the guidelines carefully.
Steps to apply Online:
(a) Candidate visit official website of CUPB i.e www.cup.ac.in.
(b) Then Go to "Careers " option.
(c)give the details carefully Especially Email-Id
(d)print the Application Foam.
Important dates:
Start date For Online Application:30-05-2016
Last Date for Online Application With Supported Documents:06-06-2016
Important Links for Punjab CU Recruitment 2016 ::
1. For the Official Website:: http://www.cup.ac.in/
2. For the Notification Details:: CLICK HERE