State Health Society Bihar Recruitment 2015 for 10 Posts . Last Date to apply: 16 Feb 2015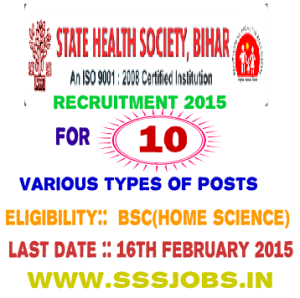 The state health society, Bihar has been established to guide its functionaries towards Receiving, managing (including disbursement to implementing agencies e.g. Directorate, of Medical & Public Health District Societies, NGOs etc.) and account for the funds received from the Ministry of Health & Family Welfare, Government of India. Its resources will manage the NGO / PPP (Public-Private partnership) components of the NRHM in the state including execution of contracts, disbursement of funds and monitoring of performance. Bihar Govt. has decided that SHS Bihar will function as a Resource Centre for the Department of Health & Family Welfare in policy/situational analysis and policy development (including development of operational guidelines and preparation of policy change proposals for the consideration of Government). SHS Bihar, Strengthen the technical / management capacity of the Directorate of Medical & Health Services patna as well as of the Districts Societies by various means including through recruitment of individual / institutional experts from the open market and mobilize financial / non-financial resources for complementing/supplementing the NRHM activities in the State.The candidates eligible for the post can apply through prescribed format before 16 February 2015.
State Health Society Bihar Recruitment 2015 for 10 Posts Details
Advt. No: S102
Feeding Demonstrator/Nutrition Counsellor jobs opportunity in State Health Society (Bihar)
Post Name 
                Qualification 
No. of Post
Remuneration
Age
Feeding Demonstrator/
Nutrition Counsellor
1. Bachelor Degree in Nutrition /Home Science and Social Work. Desirable : 1. Master Degree in Nutrition /Home Science and Social work. Experience : Minimum 6 months of work experience as a nutrition counsellor working either with government, private or NGOs working in health sector. Desirable Experience : a. Strong demonstration Skill. b. Strong Documentation Skill (Process document and Best Practices) c. Excellent communication skill
UR -5 EBC -2 BC -1 SC-2
    Rs.9000/-
21- 62 Yrs
Eligibility : BSc(Home Science)
Location : Patna
How to apply
Candidates should apply Online latest by 16.02.2015.
Important Dates:::
Last Date : 16 Feb 2015.