Andhra Bank Recruitment Notification 2015 for 25 Vacancies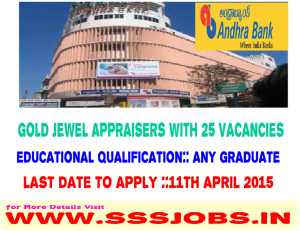 "Andhra Bank" was founded by the eminent freedom  fighter and a multifaceted genius, Dr. Bhogaraju Pattabhi Sitaramayya. The Bank was registered on 20th November 1923 and commenced business on 28th November 1923 with a paid up capital of Rs 1.00 lakh and an authorised capital of Rs 10.00 lakhs.Dr Bhogaraju Pattabhi Sitaramayya was born on 24th November 1880 in Gundugolanu village, West Godavari District in Andhra Pradesh. He was a renowned Freedom Fighter and a very illustrious personality. To become a significant player, providing full range of banking services through innovative customer centric products and to maximize stake holders' value.To work together towards delivering excellent customer service by leveraging on technology and human resources to attain world class performance standards.Andhra Bank Recruitment Notification 2015 for 25 Vacancies
Andhra Bank Recruitment Notification 2015 for 25 Vacancies Details::
Company Name Andhra Bank
Vacancy Name Gold Jewel Appraisers
Educational Qualification Any Graduate
Total No of Vacancy 25 Posts
Salary Rs.10,000/-pm
Job Location Hyderabad
Last Date to Apply for this job 11/04/2015
Address for the Job Vacancy Andhra Bank, ZONAL OFFICE :: Hyderabad -I 1 st Floor, Sultan Bazar, Koti, Hyderabad
DETAIL OF ANDHRA BANK GOLD JEWEL APPRAISERS RECRUITMENT:
Applications are invited for appointment of Gold Jewel Appraisers on contract basis in Andhrabank Branches situated in Hyderabad and areas. Interested candidates may contact at the above address. The following are norms for Appointment of Gold Jewel Appraiser:
NORMS:
Sales Tax/Commercial Tax Registration is preferable.
Statement of account or pass book issued by the Bank where the account of the applicant is maintained is to be produced. In case the applicant is not having any account, bank account proof of his blood relatives like his Father/Brother/spouse may be produced. Copy of the LIC policy is also accepted.
It is desirable that the applicant is member of local Jewel's association/Jewel maker's association. Where the applicant is unable to produce proof of such membership, 1. A certificate of experience in Jewel making or appraising for a period of not less than 1 year from a local jewellery shop or a Jewel maker with considerable experience is accepted. OR 2. Certificate issued by a Training Institute like Department of MSME, goldsmith association, gold Jewel association, Polytechnic etc. will also be accepted.
Applicant is to produce conduct and charecter certificate or provide names of two local persons as references from whom the bank will obtain such certificates directly.
The applicant seeking appointment as Gold Jewel appraiser should be a goldsmith either local/nearby town with considerable experience in the profession. OR Certificate holder from institutes mentioned in point no.3 above with a minimum experience of one year.
He must be available at the branch throughout the working hours on all working days and as and when called by the branch.
The applicant should have semi urban or urban property worth not less than Rs.50000/- and should offer third party guarantee also.
The applicant should submit identity proof and address proof towards KYC compliance.
If the remuneration of the appraiser exceeds Rs.10000/- a month, 20% cutback will be made from the remuneration over and above Rs.10000/- and shall be taken as RD+ deposit with lien to the bank.
The following branches are identified for appointment of Gold Jewel appraisers. 01). Amberpet 02). Apollo Hospitals 03). Bagh Amberpet 04). Balkampet 05). Charminar 06). Dr. Pattabhi Bhavan 07). Endowments Office 08). Gagan Mahal 09). Himayat Nagar 10). Hyderguda 11). Khairatabad 12). LabourCommissioners Office 13). Langer House 14). Malakpet 15). Mehdipatnam 16). MLA Colony 17). Moosarambagh 18). Mukhramjahi Road 19). NIMS 20). Personal Banking 21). Rajbhavan Road 22). Saifabad 23). Secretariat 24). Special Agricultural Branch 25). Sultan Bazar
SELECTION PROCEDURE FOR ANDHRA BANK – GOLD JEWEL APPRAISERS POST:
Candidates can apply on or before 11/04/2015
No Detailed information about the selection process is mentioned in the recruitment notification
HOW TO APPLY FOR GOLD JEWEL APPRAISERS VACANCY IN ANDHRA BANK:
Interested candidates may apply on or before 11/04/2015
IMPORTANT DATES TO REMEMBER :
Last Date to Apply for this job 11/04/2015.
Important Links::
For the OFFICIAL Website::http://andhrabank.in/english/Retail.aspx
For the Detailed ADVT Notification:: CLICK HERE