Bank of Maharashtra Notified Recruitment 2015 for 40 CA Vacancies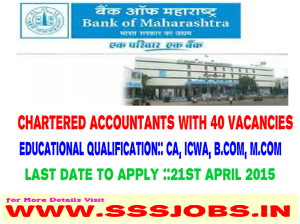 Bank of Maharashtra is a major public sector bank in India. Government of India holds 81.2% of the total shares. The bank has 15 million customers across the length and breadth of the country served through more than 1868 branches. It has largest network of branches by any public sector bank in the state of Maharashtra.The bank was founded by a group of visionaries led by the late V. G. Kale and the late D. K. Sathe and registered as a banking company on 16 September 1935 at Pune.The bank was registered on 16 September 1935 with an authorised capital of INR 1 million, and began business on 8 February 1936. Bank's financial assistance to small units has given birth to many of today's industrial houses. After nationalization in 1969, the bank expanded rapidly.Shri Narendra Singh who had assumed the office of Chairman and Managing Director from 1 February 2012, left his office on 30 September 2013 on attaining superannuation. Shri Sushil Muhnot is the new Chairman and Managing Director.Bank of Maharashtra Notified Recruitment 2015 for 40 CA Vacancies
Bank of Maharashtra Notified Recruitment 2015 for 40 CA Vacancies Details::
Company Name Bank of Maharashtra
Vacancy Name Chartered Accountants
Educational Qualification CA, ICWA, B.Com, M.Com
Total No of Vacancy 40 Posts
Salary Rs. 19,400 – Rs 28,100/-pm
Job Location Pune
Last Date to Apply for this job 21.04.2015
Address for the Job Vacancy Bank of Maharashtra, 'Lokmangal" 1501, Shivaji Nagar Pune-411005
DETAIL OF BANK OF MAHARASHTRA CHARTERED ACCOUNTANTS RECRUITMENT:
Name of the Post : Chartered Accountants
No of Post : 40
Qualification : Minimum 2 years in any firm or Company or Bank
Age : 21-35 years
Remuneration :Rs. 19,400 – Rs 28,100/-pm
CONDITIONS:
The Candidates applying should ensure that they fulfill all eligibility criteria. Their admission to all the stages of the recruitment process will be purely provisional subject to satisfying the prescribed eligibility criteria mentioned in this advertisement. Bank will take up verification of eligibility conditions with reference to documents submitted by the candidate only after the candidate has qualified for interview.
Pre-requisites are minimum and mere possession of the same does not entitle the candidate to be called for selection process. Considering the experience, the candidates will be shortlisted for selection process.
If any false/incorrect information furnished by the candidate is detected at any stage of recruitment process, his/her candidature will not be considered.
If the candidate knowingly or willfully furnishes incorrect or false particulars or suppresses material information, he/she will be disqualified and if appointed, shall be liable for dismissal from the Bank's service without any notice or assigning any reasons whatsoever.
The decision of the Bank in all matters relating to recruitment shall be final and no individual correspondence will be entertained. Applications received after due date will not be entertained. The Bank is not responsible for any postal delay.
The recruitment in Bank of Maharashtra is done strictly as per merit in a systematic way. Canvassing in any form will disqualify a candidate.
The Bank reserves the right to cancel the Recruitment through this Advertisement fully or partly on any grounds and such decision of the Bank will not be notified or intimated to the candidates.
Employees working in Government /Semi-Government Undertaking will have to produce No Objection Certificate at the time of interview.
The application must be submitted on line through Bank`s website www.bankofmaharashtra.in.
Date of birth as per Secondary School Certificate (SSC) and age as on 01.12.2014 should be mentioned.
Appointment of selected candidate is subject to his/her being declared medically fit as per the requirement of the Bank. Such appointment will also be subject to the Service & Conduct Rules of the Bank.
The selected candidate will be on probation for a period of one year from the date of joining. Their confirmation in the Bank`s service will be decided in terms of the provision of the Bank of Maharashtra (Officers) Service Regulations.
Candidates applying under reserved category should submit the related certificates in the format prescribed by the Government of India. Relaxation in age will be given to the reserved category candidates as per extant guidelines of Government of India.
IMPORTANT DATES:
Date of Commencement of online Application : 30.03.2015
Date of Closure : 21.04.2015
Last Date Hard copy of Application : 30.04.2015
SELECTION PROCEDURE FOR BANK OF MAHARASHTRA – CHARTERED ACCOUNTANTS POST:
Candidates can apply on or before 21.04.2015
The selection will be through direct interview.
HOW TO APPLY FOR CHARTERED ACCOUNTANTS VACANCY IN BANK OF MAHARASHTRA:
Print copy of on line application with attested copies of certificates in support of age, qualifications experience etc. should be submitted to The Asstt. General Manager (IR HRD) Bank of Maharashtra Lokmangal1501, Shivaji Nagar Pune411005. So as to reach on or before 30-04-2015. Post applied for must be written on the envelope clearly. Applications received after due date (for whatsoever reason) shall not be entertained.
IMPORTANT DATES TO REMEMBER :
Last Date to Apply for this job 03/01/2015.
Important Links::
For the OFFICIAL Website::http://www.bankofmaharashtra.in/
For the Detailed ADVT Notification:: CLICK HERE