Central Bureau of Investigation Recruitment 2015 for 312 Vacancies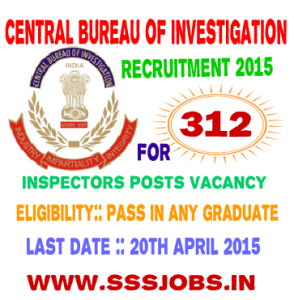 The Central Bureau of Investigation traces its origin to the Special Police Establishment (SPE) which was set up in 1941 by the Government of India. The functions of the SPE then were to investigate cases of bribery and corruption in transactions with the War & Supply Deptt. Of India during World War II. Superintendence of the S.P.E. was vested with the War Department. Even after the end of the War, the need for a Central Government agency to investigate cases of bribery and corruption by Central Government employees was felt. The Delhi Special Police Establishment Act was therefore brought into force in 1946. This Act transferred the superintendence of the SPE to the Home Department and its functions were enlarged to cover all departments of the Govt. of India. The jurisdiction of the SPE extended to all the Union Territories and could be extended also to the States with the consent of the State Government concerned. Central Bureau of Investigation Recruitment 2015 for 312 Vacancies
Central Bureau of Investigation Recruitment 2015 for 312 Vacancies Details::
Company Name Central Bureau of Investigation (CBI)
Vacancy Name Inspectors
Educational Qualification Any Graduate
Total No of Vacancy 312 posts
Salary Rs.40,000/- p.m.
Job Location New Delhi
Last Date to Apply for this job 20.04.2015
Address for the Job Vacancy Government of India CENTRAL BUREAU OF INVESTIGATION (Department of Personnel & Training), New Delhi.
DETAIL OF CENTRAL BUREAU OF INVESTIGATION (CBI) – INSPECTORS RECRUITMENT:
Looking for retired and serving Police Officers of the rank of Inspector and above for appointment as Inspector on contract for one (01) year or till the filling up of these vacancies either by Promotion or by Deputation, whichever is earlier at a consolidated remuneration not exceeding Rs.40,000/- per month. The candidate should be graduate from recognized university. The person engaged shall have no right to claim regularization/absorption in the organization after the expiry of period of contract.
The retired officers of the Central/State Police Forces of the rank of Inspector or above with 10 years of experience in Investigation and Prosecution of Criminal Cases in the Court of Law are eligible for appointment to the above mentioned post. The candidates will be on whole time appointment and will have no right to undertake part time private employment during the period of contract. The Inspectors appointed on Contract will be utilized by HoZ/HoB in best interest of CBI, which should take into account the performance of duties of Pairvi Officers at Special CBI Courts.
The number of vacancies at each location are given in Annexure-III. The number of vacancies and place of interview are subject to change.
SELECTION PROCEDURE FOR CENTRAL BUREAU OF INVESTIGATION (CBI) – INSPECTORS POST:
Candidates can apply on or before 20.04.2015
No detailed information about the selection procedure is mentioned in the recruitment notification.
HOW TO APPLY FOR INSPECTORS – VACANCY IN CENTRAL BUREAU OF INVESTIGATION (CBI):
The application forms can be downloaded from CBI website (www.chi.gov.in).The completed application in the prescribed format (Annexure —I) alongwith requisite documents may be sent by Regd./Speed Poston addresses given against each location in Annexure-II. The last date of receipt of applications 20.04.2015. Incomplete application and application received after last date will be summarily rejected.
IMPORTANT DATES TO REMEMBER :
Last Date to Apply for this job 20.04.2015
Important Links::
For the OFFICIAL Website::http://hp.gov.in/HPPSC/
For the Detailed ADVT Notification:: CLICK HERE