Doordarshan Recruitment Notification 2015 for 24 Asst and More Posts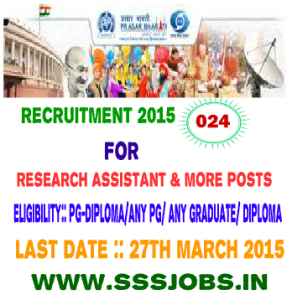 Prasar Bharati is India's largest public broadcaster. It is an autonomous body set up by an Act of Parliament and comprises Doordarshan television network and All India Radio which were earlier media units of the Ministry of Information and Broadcasting. Prasar Bharati was established following a demand that government owned broadcasters in India should be given autonomy like those in many other countries. The Parliament of India passed an Act to grant this autonomy in 1990, but it was not enacted until 15 September 1997.Dr A Surya Prakash is the current chairperson of Prasar Bharati and Jawhar Sircar is the CEO. Prasar Bharati is a statutory autonomous body established under the Prasar Bharati Act and came into existence on 23.11.1997. It is the Public Service Broadcaster of the country. The objectives of public service broadcasting are achieved in terms of Prasar Bharati Act through. All India Radio and Doordarshan, which earlier were working as media units under the Ministry of I&B and since the above said date became constituents of Prasar Bharati.Doordarshan Recruitment Notification 2015 for 24 Asst and More Posts
Doordarshan Recruitment Notification 2015 for 24 Asst and More Posts Details::
Company Name Prasar Bharati
Vacancy Name Research Assistant & More Vacancies
Educational Qualification PG-Diploma/Any Post Graduate/ Any Graduate/ Diploma
Total No of Vacancy 24 Posts
Salary Rs.12,000-41,000/-pm
Job Location Delhi
Last Date to Apply for this job 27/03/2015
Address for the Job Vacancy Deputy Director(Programme), NABM, Delhi
DETAIL OF PRASAR BHARATI RESEARCH ASSISTANT & MORE VACANCIES RECRUITMENT:
National Academy of Broadcasting & Multimedia, Kingsway, Delhi invites applications from young dynamic persons for engaging them against various positions on contractual basis for supporting the Induction Training Programme being conducted by National Academy of Broadcast & Multimedia, Delhi & Bhubaneshwar for the Newly recruited Programme & Engineering staff of Prasar Bharati. The initial contract will be for six months which can be extended / curtailed at the discretion of the competent authority.
Name of the Post No of the Post Qualifications Remuneration
Web Content Manager 2 PG Degree/ Diploma in Journalism Prod. or Degree/Diploma in Computer Applications with 2 yrs. Experience of managing working with Website 25000
Research Assistant 2 Graduate with Diploma in Journalism/Mass Communication 17000
Camera Man 5 Diploma in Videography with 1 yr. experience 20000
Broadcast Executive 6 Diploma in TV/ Radio Production 17000
Post Production Assistant 4 Professional Degree/Diploma in Film & Video editing with 2 yrs. experience 25000
Light Man 4 Cinematography course with 2 yrs. experience of handling field camera operations 12000
Creative Editor 1 Essential: Professional Training & Degree/Diploma in relevant field; Expertise in Software like Adobe after effects, Photoshop, 3D max etc.; Proficiency in Working on Multilayered Nonlinear Audio Video systems, 3D Graphics Editing etc. At least 1-2 years experience with a professional Broadcast Company in a | similar capacity. 41000
SELECTION PROCEDURE FOR PRASAR BHARATI – RESEARCH ASSISTANT & MORE VACANCIES POST:
Candidates can apply on or before 27/03/2015
No Detailed information about the selection process is mentioned in the recruitment notification
HOW TO APPLY FOR RESEARCH ASSISTANT & MORE VACANCIES VACANCY IN PRASAR BHARATI:
Interested eligible candidates may send their detail bio-data along with the attested copies of their Educational qualifications & Experience in the attached proforma to reach Deputy Director General (Training), National Academy of Broadcast & Multimedia, Kingsway Camp, Delhi- 110009 by Speed Post clearly indicating on the envelope (Applications for the position of ____ for Induction Training Programmes). Soft copy of the application along with all the documents relating to educational qualifications/experience etc. may also be forwarded by email to nabmpdelhi@gmail.com. The last date of the receipt of application is 2ih March 2015. Please note that applications received after due date will not be entertained under any circumstances. For any enquiry please contact, the Deputy Director(Programme), NABM, Delhi on Phone No. 011-2760 1093.
IMPORTANT DATES TO REMEMBER :
Last Date to Apply for this job 27/03/2015
Important Links::
For the OFFICIAL Website::http://prasarbharati.gov.in/default.aspx
For the Detailed ADVT Notification:: CLICK HERE