Himachal Pradesh Gramin Bank Recruitment Notification 2015 for 203 Officers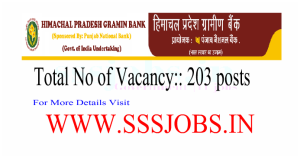 Himachal Pradesh Gramin Bank, sponsored by Punjab National Bank came into existence with the amalgamation of two RRBs, viz. Himachal Gramin Bank, Mandi (sponsored by Punjab National Bank) and Parvatiya Gramin Bank, Chamba (sponsored by State Bank of India) vide Government of India Notification dated 15th February 2013 under section 21 of the RRBs Act, 1976 with its Head Office at Mandi. The area of operation of the Bank is spread over to 12 districts of Himachal Pradesh. The Bank is authorized to affect banking transactions as permitted under section 5(b) of Banking Regulation Act, 1949.Presently, Bank is functioning with a network of 212 branches in twelve districts, namely, Mandi, Kangra, Kullu, Hamirpur, Bilaspur, Una, Shimla, Solan, Sirmour, Kinnaur, Lahul -Spiti and Chamba . There are two Regional Offices, one at Dharamsala at Dari and other at Sunder Nagar at Mandi.Himachal Pradesh Gramin Bank Recruitment Notification 2015 for 203 Officers
Himachal Pradesh Gramin Bank Recruitment Notification 2015 for 203 Officers Details::
Company Name:: Himachal Pradesh Gramin Bank (HGB)
Vacancy Name:: Officers
Educational Qualification:: Any Graduate, 10TH
Total No of Vacancy:: 203 Posts
Salary:: Rs.7,200-31,500/- p.m.
Job Location:: Mandi
Last Date to Apply for this job:: 22.04.2015
Address for the Job Vacancy:: General Manager, HIMACHAL PRADESH GRAMIN BANK General Manager Head-Office Jawahar Nagar Mandi. 175001.
SELECTION PROCEDURE FOR HIMACHAL PRADESH GRAMIN BANK (HGB) – OFFICERS POST:
Candidates can apply on or before 22.04.2015
Selection will be made on the basis of performance in RRBs- CWE-III conducted by IBPS in September/ October 2014 and Personal Interview for all cadres. Merit list of the candidates for final selection based on Total Weighted Scores (TWS) obtained by them in CWE of IBPS and Personal Interview will be prepared in descending order under each SC/ST/OBC/Unreserved (UR) category.
PERSONAL INTERVIEW: Depending on the number of vacancies, Bank will call from among who have applied to bank, the number equivalent to three times the number of vacancies short-listed based on their Total Weighted Scores (TWS). Remaining applicants, if any, will not receive an interview call from the Bank.
HOW TO APPLY FOR OFFICERS VACANCY IN HIMACHAL PRADESH GRAMIN BANK (HGB):
Candidates are required to apply online through Bank's website www.himachalgraminbank.org between 07.04.2015 to 22.04.2015. No other means/ mode of application will be accepted.
Candidates should ensure that their personal email ID (as specified in the online application form while applying for RRBs- CWE III conducted in September/October 2014) is kept active during the currency of a recruitment project. Bank may send call letters for Interview etc. to the registered e-mail ID.
IMPORTANT DATES TO REMEMBER :
Last Date to Apply for this job 22.04.2015.
Important Links::
For the OFFICIAL Website::http://himachalgraminbank.org/
For the Detailed ADVT Notification:: CLICK HERE
For the ONLINE Application:: CLICK HERE