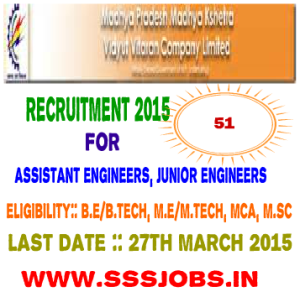 Madhya Pradesh Madhya Kshetra Vidyut Vitaran Company Limited (MPMKVVCL) was incorporated as a wholly owned Government Company on 31st May 2002, under the Companies Act 1956, the same has been notified vide order No. 5555/RS/4/13/2001 dated 1st July, 2002 of the Government of Madhya Pradesh. The Company undertakes the activities of distribution and retail supply in the areas covered by the Commissionaries of Bhopal, Hoshangabad, Gwalior and Chambal. The Company obtained certificate of commencement of business on 16th July 2002 from Registrar of Companies, Madhya Pradesh and Chattisgarh, Gwalior.Subsequently vide Government of Madhya Pradesh notification No. 3679/FRS/18/13/2002 dated 31.05.2005, the Company has been provided functional autonomy with effect from 01.06.2005. The CIN Number of Company is U40109MP2002SGC015119. Madhya Pradesh MKVVCL Recruitment 2015 for 51 Engineer Posts
Madhya Pradesh MKVVCL Recruitment 2015 for 51 Engineer Posts Details::
Company Name Madhya Kshetra Vitaran Company Limited (MPMKVVCL)
Vacancy Name Assistant Engineer, Junior Engineer
Educational Qualification B.E/B.Tech, M.E/M.Tech, MCA, M.Sc
Total No of Vacancy 51 posts
Salary Rs.28,758-43,260/- p.m.
Job Location BHOPAL
Last Date to Apply for this job 27.03.2015
Address for the Job Vacancy MADHYA PRADESH MADHYA KSHETRA VIDYUT VITARAN COMPANY LIMITED (GOVT. OF M.P.UNDERTAKING) NISHTHA PARISAR, GOVINDPURA, BHOPAL (M.P.) – 462023
DETAIL OF MADHYA KSHETRA VITARAN COMPANY LIMITED (MPMKVVCL) – ASSISTANT ENGINEER, JUNIOR ENGINEER RECRUITMENT:
Post No of post Qualification Age Salary
A.E.(IT) 17 B.E./B. tech/ M. Tech(IT/CS/EC/EI/EE), MCA,MSC(CS,IT) from recognized university. CCNA/CCNP/CCI E/ JCNIA/ JNCIS/ JNCIP, Ipv6 Silver certification, ITIL 2 years relevant post qualification experience as on 1.3.2015 Minimum age limit :- 21 years Maximum age limit :- 30 years 43,260
J.E(T&DNetwork) 34 Any Graduate in (IT/CS/EC/EE/EI/Computer application) with recognized university or After 10th , three(3) years Diploma in (IT/CS/EC/EE/EI). CCNA/CCNP/CCI E/ JCNIA/ JNCIS/ JNCIP Minimum age limit :- 18 years Maximum age limit :- 30 years 28,758
SELECTION PROCEDURE FOR MADHYA KSHETRA VITARAN COMPANY LIMITED (MPMKVVCL) – ASSISTANT ENGINEER, JUNIOR ENGINEER POST:
Candidates can apply on or before 27.03.2015
The Eligible candidates shortlisted on the basis of the details filled in online application form satisfying the aforementioned criteria may have to undergo an online technical test comprising of questions in relevant subject as indicated in the syllabus.
Admit cards for online technical test will be available online on www.mponline.gov.in. Candidates may be requested to download the admit card from the above website and produce a copy of the same for appearing in online technical test.
The online technical test shall be conducted in Bhopal only.
The online technical test will be of 2 hours duration.
The question paper will be in English.
The question paper shall contain 100 questions of 1 mark each and the duration of the online test shall be two hours.
The syllabus for the online technical test is displayed along with this advertisement.
Based on the online test performance, a merit list will be declared and candidates shall be selected for contract engagement to the position of A.E.(IT) and JE(T&DNetwork) from the merit list as per the Company's requirement. If the marks secured by two or more candidates are same, selection will be based on date of birth in descending order i.e. older candidate will be placed first in the merit list..
HOW TO APPLY FOR ASSISTANT ENGINEER, JUNIOR ENGINEER – VACANCY IN MADHYA KSHETRA VITARAN COMPANY LIMITED (MPMKVVCL):
Applications shall be received through M.P. online (www.mponline.gov.in) only. Links to the website of M.P. Online have also been provided on the following website: www.mpcz.co.in . DOCUMENTS TO BE FURNISHED AT THE TIME OF JOINING:- At the time of joining the Company, the candidates selected shall have to submit the following original certificates/documents for verification: a) Higher Secondary or High School Examination certificate in support of date of birth. b) Certificate of Diploma/Degree/Post Graduation Degree OR mark sheet from recognized university. c) Certificates/documents of Global Certification, date of passing the global certificate exam should be prior to date of publication of advertisement. d) Post qualification work experience certificate in the relevant field issued by the employer. e) Caste certificate (permanent), (in case of reserved category candidates) issued by Sub Divisional Officer(SDO). f) Domicile certificate, in case of candidates applying against reserved positions.g) Candidates serving in government/semi government/public sector should submit N.O.C. from the employer. h) Adhaar card number. i) Photo identity card (Passport/Driving license/Voter Id/Bank pass book) will be required for identity. j) Proof of permanent /communication address. k) A declaration to be obtained from applicant that if any of the information furnished in the online application form is found to be false/fake at any point of time, the candidature of the candidate shall immediately stand cancelled, without assigning any reasons thereof.
IMPORTANT DATES
Date of advertisement 5 th March 2015
Online application available for candidate 9 th March 2015
Last date of submission of online application 27th March 2015
Date of issue of admit card 3 rd April 2015
Date of online technical test 5th April 2015
Publication of result on MP Online Portal 8th April 2015
GENERAL CONDITIONS :-
The Candidate should be an Indian National.
Candidates working in the Government/Semi-Government/Public Sector,satisfying the eligibiity criteria of education and age shall have to produce N.O.C. from their present employer at the time of joining failing, which they shall not be permitted to join the Company.
All SC/ST applicants of MP domicile will be reimbursed to an fro ordinary second class fare/ bus fare by the shortest route (where train route not available), as per the correspondence address indicated in the online application form, as per rule, on production of self attested copy of caste certificate issued by SDO and original travel ticket for appearing in the online technical test. MP MKVVCL, Bhopal shall make arrangements for payment of this amount.
Any dispute arising out of the selection and engagement process shall be dealt within the jurisdiction of court situated at Bhopal only.
All candidates while filling the online application form should fill in their e-mail address and mobile number correctly. Candidates should check their e-mail and sms regularly for future correspondence and they are also advised to visit Company's website regularly for updates.
Result of successful candidtes would be uploaded or conveyed on Company/MP Online website and through e-mail. However, offer letter for successful candidates would be sent through speed post/regisetred AD on the communication address mentioned in online application form.The Company would not be responsible for postal delay.
The vacancies are tentative and may change at a later date according to the need of the company. The company reserves the right to fill or not fill any of the vacancies and also to increase or decrease the positions.
The candidate shall be required to work anywhere in the jurisdiction of allotted company's area.
The candidates who have a third child born on or after 26.01.2001 are not eligible to apply unless twins are born after first child.
If any of the information given by the candidate is found incorrect,his/her candidature will be cancelled at any stage of selection and engagement without assigning any reason/notice.Suitable legal action may also be taken.
IMPORTANT DATES TO REMEMBER :
Last Date to Apply for this job 27.03.2015
Important Links::
For the OFFICIAL Website::http://www.mpcz.co.in/
For the Detailed ADVT Notification for Firestation Officer:: CLICK HERE