Uttar Pradesh State RTC Recruitment 2015 for 154 Conductors Posts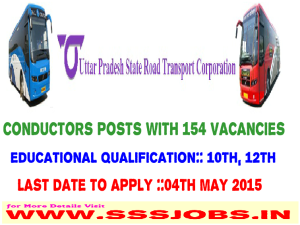 UPSRTC is a public sector passenger road transport corporation providing services in the state of Uttar Pradesh and other adjoining states in North India. With a fleet size of over 9500 buses we operate over 3 million kilometers catering to the travel needs of over 1.4 million people and earning over Rs.70 million everyday. Provision of adequate, efficient, well co-ordinated, comfortable and economical services to our passengers, while earning enough for self-sustenance & growth, is our motto.The corporate office of the corporation is situated at Lucknow. The Corporation has been reconstituted on 30.10.03 with the services in the state of Uttaranchal firming a separate corporation.For efficient functioning the corporation has been divided into 20 regions of which 1 region operates urban & sub-urban services. Each region has a regional workshop where major repair and maintenance work as well as assembly reconditioning work is performed.
Company Name Uttar Pradesh State Road Transport Corporation (UPSRTC)
Vacancy Name Conductors
Educational Qualification 10TH/ 12TH
Total No of Vacancy 154 Posts
Job Location Bareilly, Aligarh, Moradabad
Last Date to Apply for this job 04/05/2015
Address for the Job Vacancy Uttar Pradesh State Road Transport Corporation (UPSRTC),Uttar Pradesh
DETAIL OF UTTAR PRADESH STATE ROAD TRANSPORT CORPORATION (UPSRTC) CONDUCTORS RECRUITMENT:
Uttar Pradesh State Road Transport Corporation bus operations to meet the shortage of regular operators on contract basis from time to time is bound operators | listed applicants eligible for vacancies available in different areas from time to time to Abddhta will | current vacancies description is displayed in playback Based on the available vacancies in different areas according to the following description for the contract operators are invited applications Online.
Region
Vacancies
Registration
General
SC
ST
OBC
Open
Close
Aligarh
21
9
1
12
03/28/2015 09:00
04/05/2015 21:00
Moradabad
33
14
1
18
03/28/2015 09:00
04/05/2015 21:00
Bareilly
23
10
1
12
03/28/2015 09:00
04/05/2015 21:00
Candidates will pass the test and at least Intrmeediyet mentioned in point No. 3, has qualified for at least one source.
The candidate's age 01/01/2015 minimum 18 years and maximum 40 years should be | OBC / SC / ST and Ex-servicemen age Uttar Pradesh government rules exempted Javegi | A 0 C 0 Transport Corporation deceased employees, dependents 60 by age and all government / corporations and Ctnishuda retired employee is under 65 years of age can apply. 3. Candidates will be ranked according to sources the following preferred qualifications, namely -1 priority number order will. After this serial number -2 to 10 mentioned sources sequentially as recruitment preference will be provided. (1) A 0 Q 0 Transport Corporation deceased staff dependent.(2) Home Guard. (3) A 0 Prlprivhn Corporation retired employee (whose age 65 years) to (4) Ex. (5) paramilitary retired employees. (6) All government / corporations retired and Ctnishuda employee (whose age under 65 years) to (7) N 0 C 0 C 0 B Certificate candidate received. (8) a candidate who has passed the test Bharat Scouts and Guides Association Intrmeediyet third step / State award or certificate of award received the President or the Rover / Ranger is the master. (9) First class (60 percent or higher scores), one Intrmeediyet a candidate who passed the test center / State Government recognized the e-label computer training institutions have been successfully achieved. (10) Intrmeediyet candidate who passed the test, which the Central Government / State Government Recognition institutions come from t 0 0 I 0 training successfully have received above proceedings sure should be. Notः- any source, applicants wishing to enroll or not the right to manage the reserves.
Transport Corporation serving isolated been or of misconduct, they were Remove from contract will not be eligible for recruitment of personnel.
OBC, SC / ST reservation will be payable as per rules. 6. The online application fee payable for application details are given below.
APPLICATION FEE:
1 General class / fees for Other Backward Classes Rupee. 200.00 / – + fixed fee back
The 2 SC / ST fees for Rupee. 100.00 / – + fixed fee back
3 A retired employee of the corporation Prlprivhn 0 / dependents of deceased employees Free of charge
Application Fee Credit Card / Debit Card // Internet Banking through and S i 0 0 B 0 can be deposited in any branch. After filling the registration form Arkshnwar fees shall be deposited in the bank. Thereafter, registration will be complete. 8. The application will be accepted after the end date for submission will be payable extra two working days. 9. The requested order of merit of the candidates, in order of preference of the sources mentioned in point number 2 will be prepared in different classwise. 10. After selecting candidates were attached at the time of registration certificates must be presented to the Regional Manager Swpramaint and Mulprati | 11. Selected candidates posted in any area Depot can be. 12. The selected candidates is Rs. 10,000.00 / – will be provided as a security fund corporation. They will be given 15 days' unpaid training at Depot. 13. Selected the contract shall be paid by operators km 0 and promotion details will be as follows – (a) per km 20 Money (b) 97 Money / km. Incentives total remuneration of Rs. 1.17 / – per km extra Protsahn- month duty and 5,000 km in 22 days Rs. 2000.00 / – month duty and 6,000 km in 25 days Rs. 2500.00 / – night rest Rs Class cities. 68.00 / – B class cities Rs. 61.00 / – Notः- Transport Corporation from time to time by the lack of remuneration / may rise. 14. Selected contract operators must complete a contract, following the format is-
SELECTION PROCEDURE FOR UTTAR PRADESH STATE ROAD TRANSPORT CORPORATION (UPSRTC) – CONDUCTORS POST:
Candidates can apply on or before 04/05/2015
No Detailed information about the selection process is mentioned in the recruitment notification
HOW TO APPLY FOR CONDUCTORS VACANCY IN UTTAR PRADESH STATE ROAD TRANSPORT CORPORATION (UPSRTC):
Interested candidates may apply online on or before 04/05/2015
IMPORTANT DATES TO REMEMBER :
Last Date to Apply for this job 04/05/2015.
Important Links::
For the OFFICIAL Website::http://upsrtc.com/
For the Detailed ADVT Notification:: CLICK HERE