Government of Andhra Pradesh Notification 2015 for 318 Vacancies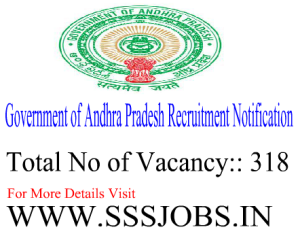 Andhra Pradesh is one of the 29 states of India, situated on the country's southeastern coast. The state is the eighth largest state in India covering an area of 160,205 km2 (61,855 sq mi). As per 2011 census of India, the state is tenth largest by population with 49,386,799 inhabitants. The new riverfront Capital City of Andhra Pradesh touted to be renamed as Amaravathi is proposed in Guntur District, in between Vijayawada City and Guntur City and will be developed under Capital Region Development Authority.In accordance with the Andhra Pradesh Reorganisation Act, 2014, Hyderabad will remain the de jure capital of both Andhra Pradesh and Telangana states for a period of time not exceeding 10 years.The state has the second longest coastline of 972 km (604 mi) among all the states of India, second only to Gujarat.Government of Andhra Pradesh Notification 2015 for 318 Vacancies
Government of Andhra Pradesh Notification 2015 for 318 Vacancies Details::
Company Name:: Government of Andhra Pradesh
Vacancy Name:: Graduate Engineer Apprentice
Educational Qualification:: B.E/B.Tech
Total No of Vacancy:: 318 Posts
Salary:: Rs.15,280/- p.m.
Job Location:: Andhra Pradesh
Last Date to Apply for this job:: 20.04.2015
Address for the Job Vacancy:: Govt. of Andhra Pradesh (Vizianagaram District).
DETAIL OF GOVERNMENT OF ANDHRA PRADESH GRADUATE ENGINEER APPRENTICE RECRUITMENT:
Name of the Post : Graduate Engineer Apprentice
No of Post : 318
Qualification : Candidate must have completed BE/B Tech/AMIE in Civil /Structural/transportation/Environmental Engineering degree from any Government University established under the Act of Central / State Government or from any Government Engineering College or from any Institution certified as NAAC Grade 'A'. The applicant should have obtained degree in the above disciplines not earlier than 2013. Degree obtained through distance education mode will not be considered.
Age : 21 – 34 years
Remuneration :Rs.15,280/- p.m.
SELECTION PROCEDURE FOR GOVERNMENT OF ANDHRA PRADESH- GRADUATE ENGINEER APPRENTICE POST:
Candidates can apply on or before 20.04.2015.
No detailed information about the selection procedure is mentioned in the recruitment notification.
HOW TO APPLY FOR GRADUATE ENGINEER APPRENTICE VACANCY IN GOVERNMENT OF ANDHRA PRADESH:
The last date for receipt of filled in applications is 20-04-2015. Applicants are required to enclose all the testimonials duly attested by the Gazetted Officer in support of his/her claim of educational qualifications, caste, local status and medical certificates (in respect of PH candidates only) etc., as indicated in the application. The applicant is required to affix latest passport size photo duly attested by Gazetted Officer.
IMPORTANT DATES TO REMEMBER :
Last Date to Apply for this job 20.04.2015.
Important Links::
For the OFFICIAL Website::http://www.ap.gov.in/
For the Detailed ADVT Notification:: CLICK HERE